Innovation in IAG
PPL provide the digital solutions used by over 35 local authorities to deliver Information, Advice & Guidance ("IAG") to people.   The websites operated and managed by PPL collectively received over two million visits in the 3 months from July to September 2023. 
This gives our team vast experience and insight, but it also drives us to work with our partners and their stakeholders to continuously improve what we offer.  This post shares some of the recent innovations. 
TRIAGE TOOL
The PPL Triage tool is an online guided advice module, enabling older and disabled
people to self-serve and find information and resources to help them live independently. 
It provides multiple navigation paths, guiding users to information in a way that makes sense to them.   It can combine dynamic self-service questionnaires and interactive images, making it configurable for lots of different uses.  There is a also a 'professional zone' that local authorities can control access to.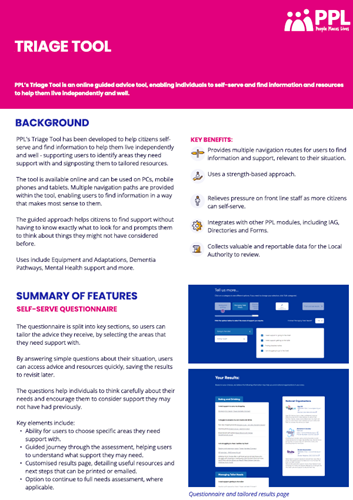 Tower Hamlets use the tool for their self-assessment form on the Tower Hamlets Connect site.  Leeds has just deployed an equipment house as part of the Leeds Directory that we help deliver, where is our low-cost answer to a similar occupational therapy tool used by several local authorities.  We are currently working with Lincolnshire and Tower Hamlets to deliver other triage tools for them, including a dementia module.  
WIDGET
The PPL Widget tool enables you to display your IAG site's directory results in real time on your own site and on any other third-party website.  
What is a widget?  If you've seen little tools embedded in a website that show a list of your nearest GP or dental practice, or that shows a Twitter/X feed, that is a 'widget'.   The PPL Widget is basically a bit of software code that you give to an administrator for them to embed in their website to display information from your IAG site.   
Its really easy for a local authority to setup and manage, and we think it is a game-changer for collaborative working and boosting the number of people that your IAG site reaches.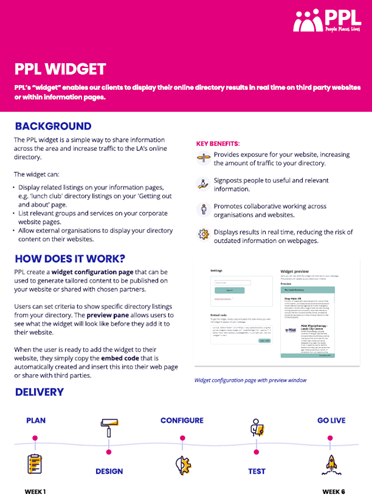 The widget tool is being deployed by Leeds City Council as part of the Leeds Directory that we help deliver.   The widget tool is also due to be rolled out by Surrey, Sheffield and York over the coming few months.  
OTHER COOL STUFF
Alongside these two major developments, we have also delivered some neat improvements in recent months, including:
Suggested Searches - gives users suggestions when they start typing keywords, which they can click on to go straight to the relevant page.
Saved Searches - allows users to save (and name) their recent searches (keyword, distance or filters) to return back to at a later date. 
Subscriptions - enables users to subscribe to events / service providers so they are notified when there are any updates. 
Personalised Backgrounds -  provides users the option to choose a different background view.  
Document Management - allows service providers to upload documents to appear in their listings, such as insurance details, promotional fliers or case studies.  
Each of these features are live across a number of sites in our portfolio of IAG clients, with more clients deploying them each week.   Please do get in touch if you would like us to provide you with links to examples of where and how they are being used.  
Why does this all matter?  Well, there are a number of 'off-the-shelf' build-a-website solutions out there.  There are design agencies that say that they can build something bespoke, and there are in-house teams that can deliver a competent IAG site.   However, we believe that social care is special, and the difference between a good IAG site and an outstanding IAG solution are subtle but important.  
If you would like to discuss how we can help you deliver your IAG, please get in touch.