Our vision is to be the #1 digital personalisation solution in the UK, working with health and social care organisations to empower PEOPLE, strengthen PLACES and improve LIVES.
Personalisation. Self-direction. Citizen-led. Strengths-based. Co-produced. Prevention. Self-management. 
These words collectively represent a revolution in health and social care.   Across the world, individuals and their families are benefitting from more choice & control.  PPL are at the frontline of that revolution in the UK.   
Personalisation is about empowering and enabling people.  It can mean different things to different people, ranging from a bit of information & advice at one end of the scale through to the day-to-day management of complex health packages via a personal health budget. 
This approach is being embraced by the NHS and the local authorities that are responsible for social care.  It asks 'What matters to you?' instead of 'What is the matter with you?'.  It puts people, places and lives at the centre, creating an alternative to traditional care and support models.
We live by our five values everyday, working in true partnership with health and social care organisations to deliver simple solutions that empower people, strengthen places and improve lives.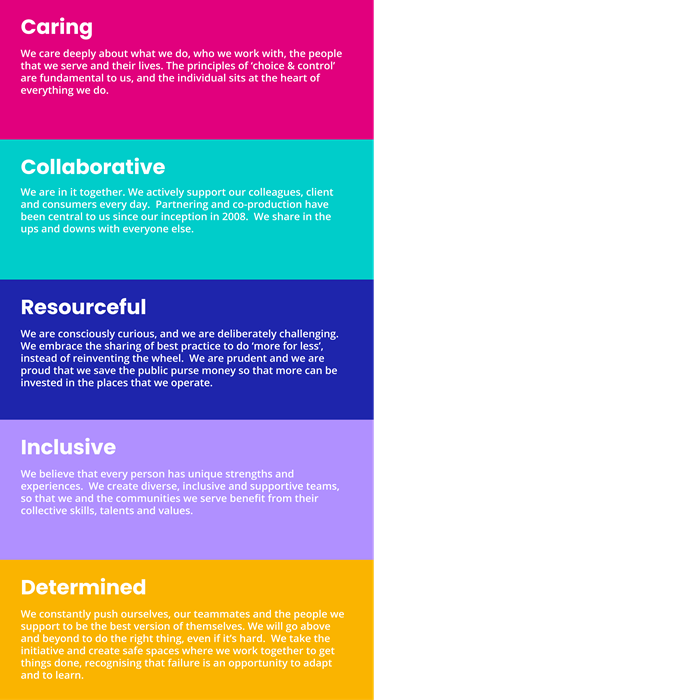 We love working with like-minded organisations across health and social care.  
Our Partners
We are always looking for bright and committed individuals to join our team.
Careers
More Info...
We contract with local authorities, NHS organisations and other health & social care organisations across the UK, via public procurement processes or frameworks such as G-Cloud. 
Our head office is in Wigan, and we employ 45 staff that are spread across the country.  The company is led by David Bowes (CEO), Claire Hewitt (COO) and Lee Jones (CTO), who each have over 15 years of experience in this sector.  Many of our staff have lived-experience of the challenges associated with health and social care in the UK, which drives our passion to make things better.  
We were originally formed in 2008 as shop4support, a joint-venture with the personalisation charity InControl.   Our offering evolved to encompass more aspects of self-direction and the acquisition of the System Associates business in 2015 consolidated us as the market leader in our field in the UK.  We were previously known as Public Partnerships and Public Consulting Group, but changed our name to People Places Lives Limited in August 2023 to better reflect what we do.
People Places Lives Limited is regulated by the Financial Conduct Authority as a Small Electronic Money Institution (FRN: 953987) in respect of the direct payments, personal health budgets and grants that are managed via us.  Funds held by us are not protected under the Financial Services Compensation Scheme, but are safeguarded within segregated bank accounts in accordance with the provisions of the Electronic Money Regulations 2011.